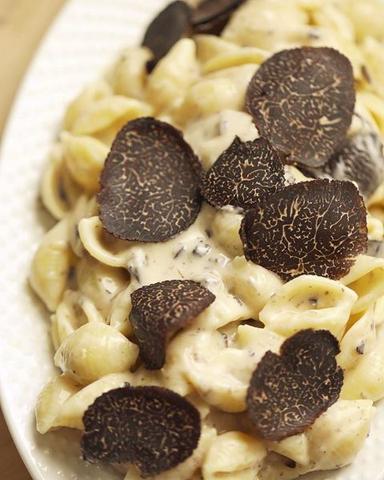 Truffle Mac'N'Cheese
INGREDIENTS
- Macaroni
- Shredded
- Mozzarella
- Breadcrumbs

Truffle Bechamel:
- 3-4 tbsp butter
- 3 tbsp all purpose flour
- 2 cups milk
- 4 tbsp grated Parmesan
- 1 tsp truffle oil
- grated black truffle
- Salt to taste.
DIRECTIONS
One of a kind mac'n'cheese recipe from Byron Talbott! The secret: it's all about the truffle Bechamel!

- Preheat oven to 355 deg F.
- Set a pot to boil, add a pinch of salt.
- Once boiling, insert macaroni.
- Cook pasta 1 minute under.
- While you wait for the pasta to cook, start on the bechamel:
- Add butter to a pan on low heat and wait until it melts.
- Add in the flour and cook while stirring for 1-2 minutes.
- Add in the milk slowly while whisking until it becomes smooth then mix in the truffle oil, Parmesan, and grated black truffle.
- Bring this mixture to a simmer for 3-4 minutes and cover with plastic film or lid.
- Use a strainer to get rid of pasta water.
- Place pasta into an oven safe dish, and cover with the bechamel.
- On top, add a dusting of mozzarella cheese and breadcrumbs.
- Bake for 5-10 min or until cheese is golden.